Food as entertainment
The joys of dining and experiencing hospitality through food bring the same sense of excitement, new discovery, and pleasant aftertaste as experiencing music, painting, cinema, sports, and other artistic and cultural pursuits. In this sense, food as an area of human endeavor exists both as high-quality entertainment and physical space.

As a supplier of mixed food additives and seasonings that are intimately related to the tasting of this type of entertainment, Kawakami plays an important role by supporting the very foundation of food entertainment. We bring this perspective to bear as we approach food culture from the point of view of customers who enjoy food through our product development, customer service, and business development operations.
Kitchen Staff
Our custom-tailored proposals for the market go beyond mere creation and might more appropriately be described as heartfelt customization on behalf of our customers. We approach their businesses from a variety of perspectives and provide broad expertise in every field. Kawakami's slogan, "Kitchen Staff," captures our commitment to act as a true partner in product strategy so that our customers can achieve new results thanks to our ability to provide the information and technologies they require.
Product proposals

We go beyond merely supplying our flagship seasoning and mixed food additives by adopting a comprehensive approach that extends from selection of the vegetable varieties that serve as ingredients in our products to variety and soil improvement. In every area of our operations, we draw on the broad set of technological skills that we have developed over many years in the business to precisely and meticulously respond to customer needs. We also strive to understand the true meaning of customer feedback received when proposing products or engaged in other sales activities and to bring it to bear on a broad range of product development efforts. With Kawakami, customer relationships are always a two-way street.

Research and development

We develop a broad range of preservatives, quality enhancers, and other products to control the decay and deterioration of food so that flavor can be maintained longer. These efforts embody a full-fledged research and development program that targets the full range of mixed food additives used in the manufacture, processing, and preservation of food. Many of these offerings have been bestselling products for a long time, earning high praise from the food industry.

Quality innovation

We consider it our mission to develop technologies for preserving freshness and flavor over the long term and for improving quality without causing discoloration or other damage in food ingredients. One revolutionary product born of Kawakami's approach to quality innovation is an antibacterial preparation with a broad antibacterial spectrum for the microbes that cause foodborne illness. We will continue to precisely assess contemporary market needs so that we can deliver unique new Kawakami products that earn high marks for quality innovation.

Technical support

As part of our commitment to proposing innovations in food culture, we offer all customers a comprehensive range of technical support. In addition to introducing proprietary new ingredients and other products, we are proud to offer planning services based on our accumulated experience, from measures for counteracting insect and mildew threats to plant sanitation, plant construction master plans, and machinery and equipment deployment plans.
Giving shape to peace of mind with a focus on safety
Through a variety of activities including proposing new foods, effecting quality innovation, manufacturing products, and offering consulting services, we build trust with customers and provide a broad range of technologies. Of fundamental importance to all of these activities are the basic idea of delicious flavor and our commitment to bringing safer foods that inspire deeper peace of mind to consumers' dinner tables. We will continue to pioneer the future of food culture while stimulating the tastes of all through free-ranging sensibility.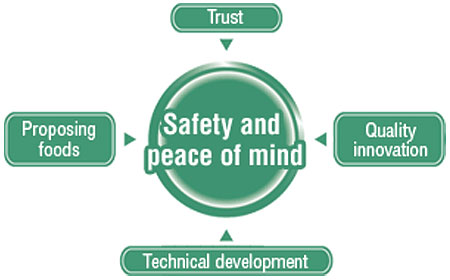 Trust

Kawakami's story is one of accumulating trust and tradition.

Our story is one of step-by-step progress, challenges overcome, and accumulated experience. The traditions that have developed during our more than 90 years of corporate history are a Kawakami treasure as well as a sign of our capabilities. Deep expertise in a single area: This fundamental stance that accepts no compromise, which you could also call craftsmanship, continues to earn us support in the form of customer trust. For example, we possess a deep ability to offer a full range of services, from planning processes on production lines at factories to selecting raw materials and seeds that fit soil and climate conditions and blending seasonings that complement the ingredients in question. We also offer broad expertise in measures for counteracting insects and mildew threats at processing plants and other aspects of sanitation and hygienic management. We're involved in a comprehensive series of activities that run ever deeper and more broadly in order to create delicious and safe food products based on the trust that we have developed over our many years of history.

The qualities and characteristics of source vegetables vary by region, and differences in taste can be discerned even if the same seasonings are used. In our laboratories, Kawakami personnel develop new products and check flavor using the actual ingredients that customers use.

Here Kawakami personnel are shown providing technical guidance at a plant in Shandong Province, China. In addition to checking the composition of the soil in which vegetables are cultivated, offering technical guidance on flavor to meet market needs, and offering product-related consulting services, we provide a comprehensive range of support that extends to product handling during the shipment process.

Proposing foods

The ability to exploit the infinite potential of a single seasoning

Kawakami does more than just supply seasonings. We go even further by creating and actively proposing new menu items based on proprietary recipes. By using various arrangements of seasonings, menus can easily be varied, and it's possible to easily create a wealth of new flavors even while continuing to use the same cooking methods and ingredients. Moreover, we go beyond conventional wisdom to pursue and propose new flavors in response to contemporary market trends. At the same time, we value not only novelty, but also a reliable sense of taste based on awareness of long-running bestsellers in our portfolio of products. Ultimately, we strive to propose foods that broaden the domain of food culture and allow consumers to experience all the appeal of flavor.

Quality innovation

Kawakami isn't satisfied with just eliminating bacteria.

A seasoning is not a viable commercial product if it maintains the appearance of freshness over the long term but sacrifices flavor. Inspired by a desire to allow consumers to enjoy various flavors with peace of mind while ensuring not only freedom from harmful bacteria, but also the integrity of the original, delicious flavor of the ingredients in question, we have developed a series of revolutionary mixed food additives for different ingredients and in the process triggered significant innovation in ingredients themselves. These products deliver a high level of antibacterial effectiveness through the action of natural, environmentally friendly ingredients rather than relying on chlorine and alcohol as in the past. Our success in this area is the fruit of the passionate commitment of each of our own researchers as well as the cooperative relationships we've built with outside research institutions. We look forward to continuing to pursue quality innovation based on a novel and bold spirit of creativity.

Developing a new type of antibacterial product

1.

Analyzing market needs

Participants in a series of sales meetings engage in a lively exchange of views to assess latent needs based on current market conditions and customer feedback.

2.

Developing product concepts

Personnel work to develop a new type of antibacterial product that will preserve the original flavor of the ingredients.

3.

Conducting research

Researchers repeatedly conduct experiments, gather data, and analyze their results while carefully verifying their results and product safety through joint research with outside expert institutions.

4.

Completing the product

The new product delivers superior antibacterial functionality compared to competing formulations. Flavor and aroma are preserved without any harmful impact on the environment or the human body, signaling the completion of a safe product.

Technical development

You can find Kawakami's technology hard at work all around you.

Kawakami's technology is used in a variety of familiar products that you can find at your local supermarket and other places. Products developed by us to improve quality and maintain product freshness serve to keep ingredients from suffering degraded flavor, discoloration, or other deterioration, and they are used by a wide range of food companies. For example, foods such as eggplants and turnips tend to lose their color and turn black during processing, limiting their value as food products. Fueled by expert knowledge, Kawakami's technology dramatically changes the added value of food products, for example by keeping processed ingredients looking like they were just picked or adding crispness in line with customer requests. Additionally, by ensuring that products deliver the required level of quality over the required period of time so that they can be used with confidence and peace of mind, our technology not only helps supply safer food products, but also contributes to stable prices. In recent years, we've also pursued new product development based on contemporary market needs by using creative approaches and state-of-the-art equipment to develop new technologies. Whether it's improving the quality of taro, which tends to become mushy when cooked, achieving true freshness that includes the flavor and appearance of vegetables, or enabling the commercialization of processed seafoods such as sea urchin roe, the freshness of which is considered extremely difficult to preserve, only advanced, specialized technology makes it possible to bring such products to market. Our technology is deeply involved in the creation of an extensive range of menu items.